Blog
To all the Mothers of teenage menstruators!
by Anuja Mistry on Jul 28, 2022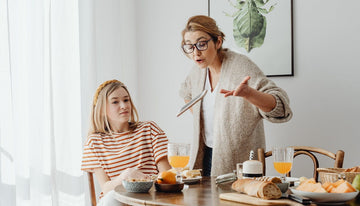 Happy Mother's Day!
As a mother, the best gift you could ever get is a newborn bond of friendship with your teenagers, isn't it?
Does it get complicated sometimes? Well, yes!
Understanding your children when they are going through puberty is like being on a rollercoaster, especially for those who menstruate.
Even after having 'the talk' about menstruation, menarche could be intimidating, right?
I mean just the sight of blood, its smell...yuck, and the worst of all is the stress and pain!!!
It is definitely a lot to take in at first. But do you get used to it? Umm...No!
Periods have never been simple, have they?
Keeping aside the physical and mental pain, the stereotypes and stigmas around it have always caused a hindrance in having a peaceful menstrual cycle.
How was your menarche? Who told you about it? How did you deal with it during your teenage years?
When I asked my Mum what menstrual products she used, she gave me a surprised look and asked did you say menstrual products? Plural?
Shocking right? Thanks to the shackles of myths & taboos, even using sanitary pads, let alone organic cotton pads, tampons, or menstrual cups, was like a luxury back then. And the cheapest and probably the safest way out was using a cotton cloth!
Could the toxic mantles of society be any more heartless?
Looks like there is still a long way to go when it comes to eliminating these stigmatized agents. But till then, will your teenagers have to hush while talking about periods?
No, not at all!
After facing a zillion restrictions, Mothers like you have refused to succumb to them anymore by fighting them along with their children. And hey, your efforts are certainly making a huge difference. Today we can openly converse about menstruation, raise our voices and concerns about Menstrual Health & Management and Water, Sanitation & Hygiene.
From secretly asking for sanitary pads to confidently specifying the brand, quality, and size of pads, tampons, and menstrual cups, we have come a long way from the negative times.
Lemme Be salutes all the Knights in Shining Armor for their courage!
You know what? Becoming liberators is a choice rather than a compulsion, and you are not just giving your children an opportunity but are supporting and respecting their independent decision. We can ask for nothing more.
To all the Mothers of the menstruators,
for accompanying us on our journey,
allowing us to experiment with what is good and comfortable for our body,
and for giving us the freedom to bleed without rashes & stains;
We just want to thank you for your eternal love!