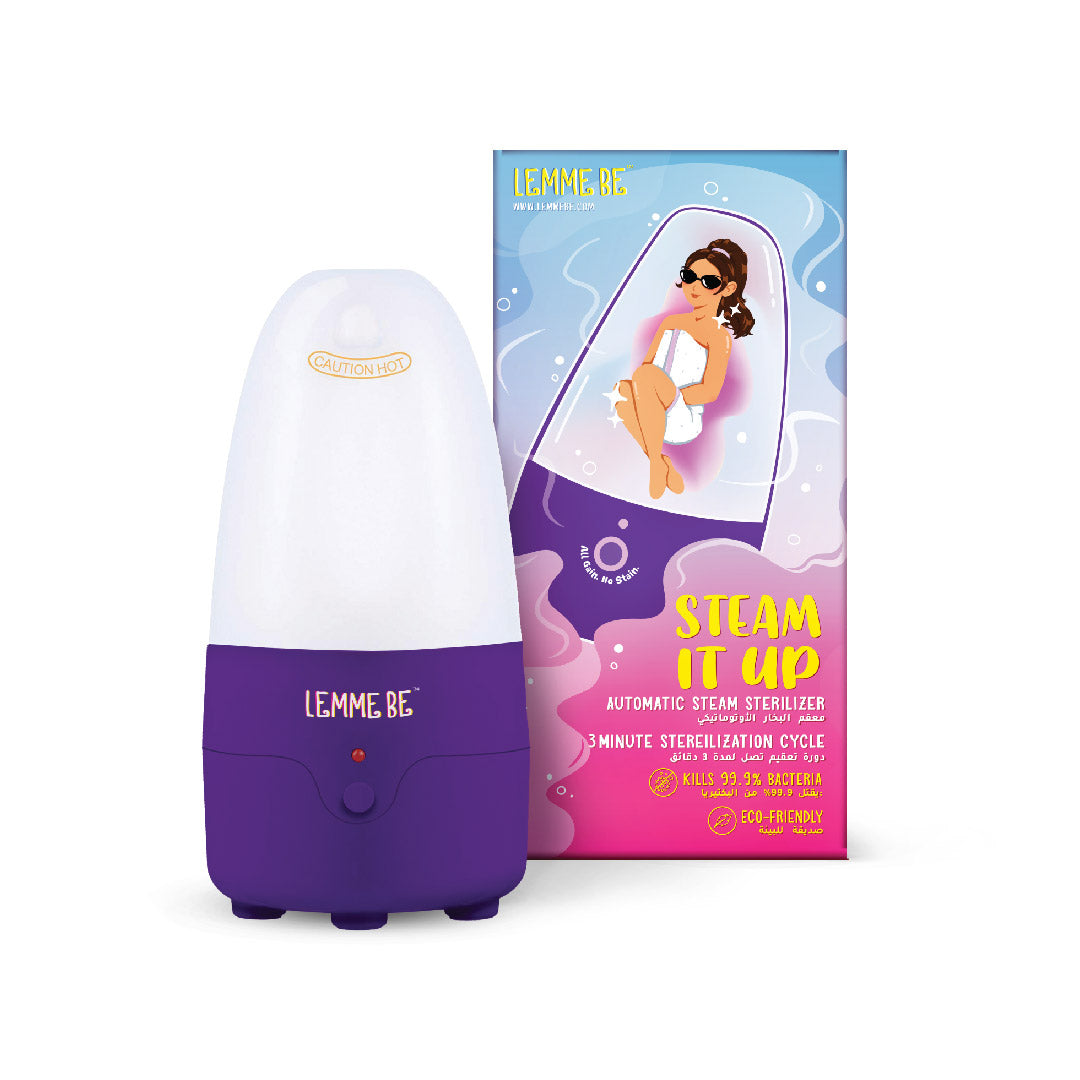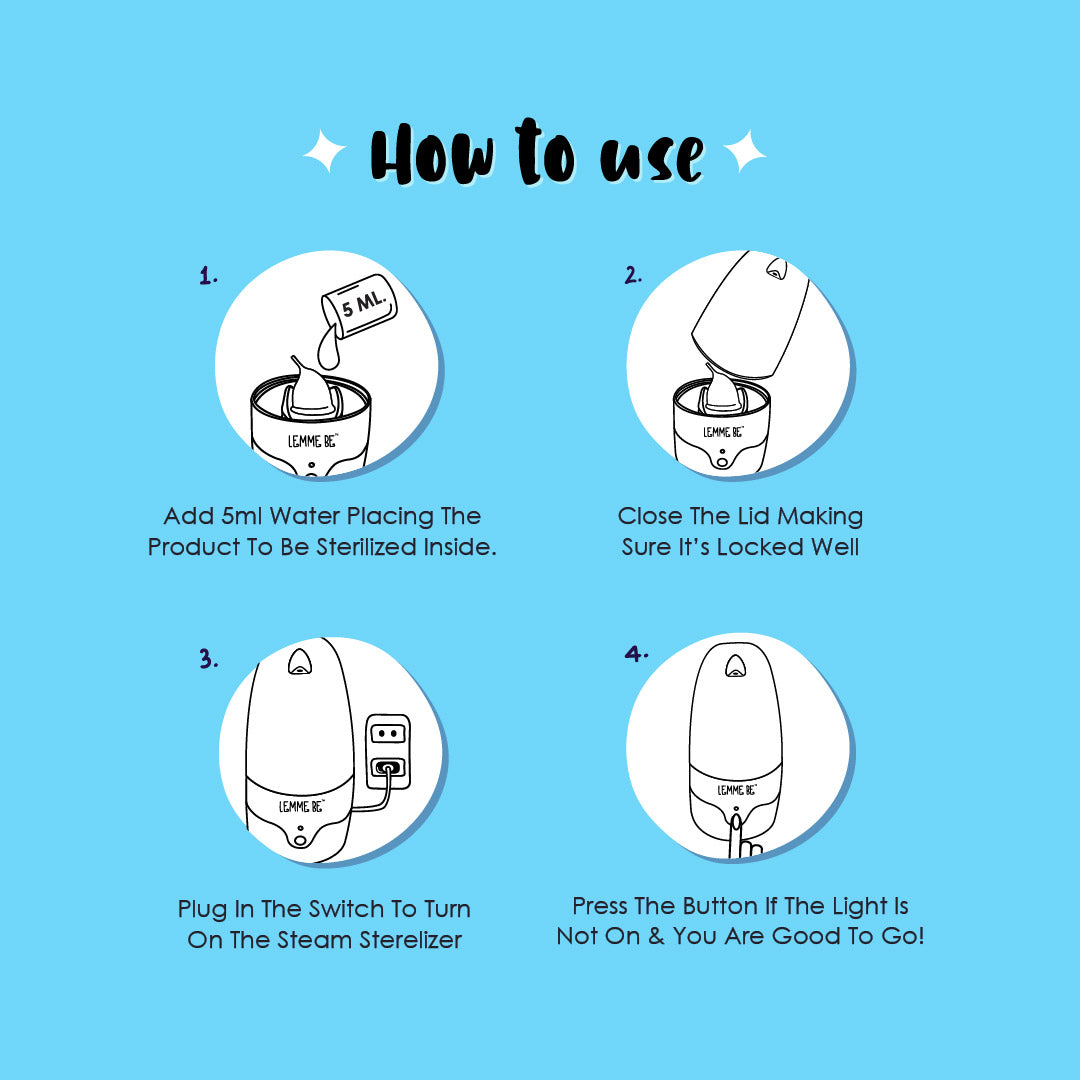 Lemme Be Steam Sterilizer - Steam it up
Sale price
₹ 999
Regular price
₹ 1,999
Tax included.
You will get 999 period points on purchase of this item
Estimated Delivery:Dec 16 - Dec 20
- Germ Genocide: Kills 99.9% bacteria in your menstrual cup and disc – Lemme Be's steam sterilizer is on a hygiene mission!

- Simple & Snazzy: Easy-peasy and portable – just follow the instructions and voila, your cup is good to go on a mini-vacation!

- Eco-Warrior: Environment-friendly vibes – because being green is the new black.

- BPA-Free Bliss: Chemical-free zone! Lemme Be's sterilizer ensures your insides stay as pristine as your intentions.

- Smart Shut-eye: Automatic power-off feature – no need to babysit, it's got its own bedtime.

- Pocket-Sized Power: Portable perfection! Take it on the go and show those germs who's boss while traveling.
With Lemme Be's Steam Sterilizer, ensure your period care essentials and toys are bacteria-free for the next adventure! The powerful 99 W steam delivers a 360° deep clean, and its generous capacity lets you stack up cups, discs, or toys hassle-free.

No fuss with Lemme Be! Just add water, toss in your item, press the button, and in 3 minutes, voila – squeaky clean! Plus, it's self-shutting, making it the perfect travel buddy for students and hostel dwellers. No stove or microwave is needed – time to steam it up, and let the magic convince you!

• Add 5ml pure water and place the cup that needs to be sterilized inside.
• Put the cover on.
• Press the button if the light is not on, and you are good to go!
• Plug and switch on the Sterilizer.
• Steam It Up - cannot function without water, ensure you add water before you use it.
• Do not put the device in water. Keep the device away from moisture.
• This STEAM IT UP switches off automatically. Once it goes off, the power button will not be press-able to avoid the device working in high temperature continuously.
• Please wait for 10 minutes more to let the temperature inside the steamer go down enough to touch, releasing the power button making it press-able again.
• Ensure that the device is working on a stable connection. Deled and heat-resistant platform, such as a table without any tablecloth on it. Do not use Steam It Up on a platform which cannot resist heat, such as a carpet or a rug.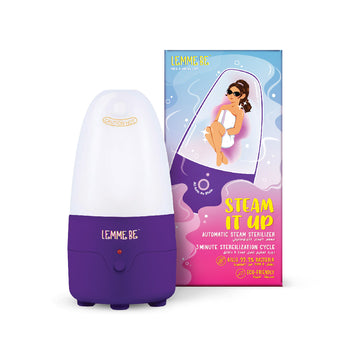 Lemme Be Steam Sterilizer - Steam it up
Sale price
₹ 999
Regular price
₹ 1,999